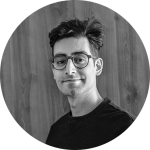 I have extensive experience designing strategies for medium and large companies, national and foreign of various businesses, which has allowed me to build efficient solutions, where creativity and research play a fundamental role in the creation of value, usability, differentiation, and positioning of the brands. I specialize in tools and methodologies oriented towards the development of Digital Platforms, Branding, Audiovisual, and Digital Marketing. As a professional, I have worked as a Designer, Project Director, leading work teams, and in the role of Art Director.
Webdox CLM
Lead Digital Designer / Product Marketing Manager
webdoxclm.com
Santiago, Chile.
Red & Blue Design Studio.
Designer / Red&Blue Design Studio.
redandblue.cl
Santiago, Chile.
Agrofree / Modular Growing Solutions.
Head of Design / Art Director
Agrofree – Modular Growing Solutions
Proyecto Startups 3IE / Corfo
Viña del Mar, V Región, Chile.
FLUOR Design Studio.
Co-Founder / Project Director
FLUOR Design Studio.
Viña del Mar, V Región, Chile.
Flúor Estudio de Diseño Ltda. was a design company focused on creating and strengthening the identity of companies and the development of their communication strategies in the digital field. Specializing in usability and information architecture.
* Communication strategies
* Mobile applications
* Corporate Websites
* Social networks
* E-Commerce
* Intranet
Social Responsability ♥
Designer-Consultant / Social Responsability
Viña del Mar, V Región, Chile.
Design consultancy to local micro-company, producer of personalized shoes ¨Kamaleon¨. Help in applying for «Capital Semilla», participation in fairs and optimization and innovation in production processes.
Workshops / Acción Emprendedora.
Organizer – Exhibitor
Workshops / Acción Emprendedora
Valparaíso, V Región, Chile.
Training program for entrepreneurs, organized by «Acción Emprendedora» and «Región Creactiva»: «Innovation, creativity and design in the business world»
* Applied creativity in business
* Generating creative ideas
* Application of innovation
* How to project an idea, from paper to real?
* Design as a tool for differentiation
Design Node / Sercotec.
Designer / Design Node / Sercotec.
Viña del Mar, V Región, Chile.
The «Sercotec Design Node» was a project financed by this development entity of the Government of Chile, which aimed to strengthen the competitiveness of the MIPE (Micro and Small Enterprises) through the application of innovation and design instruments to identify and satisfy the requirements of more competitive markets. «To achieve its goal, Sercotec articulated the» Design Node «made up of three entities: Sercotec V Region, Universidad del Mar and Consulting Design.
The work carried out consisted of the diagnosis and planning of the design plans for the participating companies of the Design Program as a Strategic Tool for SMEs of Sercotec.
Región Creactiva.
Founding Partner / Región Creactiva
Valparaíso, V Región, Chile.
Región Creactiva is dedicated to analyzing, from the point of view of design, uncommon situations in successful businesses, talking about the virtues of the discipline, the importance it has in other countries, the key factors that make companies succeed in new markets and also guide to those who do not have very clear the mission and vision of their business.
The members of Región Creactiva are convinced that Design is one of the fundamental tools that will help considerably to improve the quality of life of people and the key to success in business. Therefore our objective is to provide all the necessary information to generate a change in the «modes» of our society and its functioning.
Master in Service Design - BAU · Centre Universitari d'Arts i Disseny 0
Innovación de Servicios - SHIFTA - ELISAVA Escola Superior de Disseny 0
Inbound Marketing Certified - HubSpot Academy 0
Atlas - Language School, Dublin, Ireland. https://atlaslanguageschool.com/atlas-dublin/ 0
Adobe Creative Suite (After Effects,Premiere,Illustrator,Photoshop and Indesign) 0